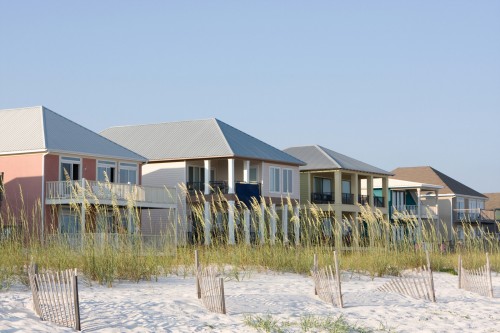 You love spending time on the beautiful Outer Banks, or at least you like the idea of it. Perhaps you haven't been able to get there much recently, or maybe you are still hoping to make your first trip. You have probably thought that it would just be so much simpler if you had a vacation home that you could use, and that might be the case. Vacation homes are popular, and they can be a good idea for many. However, they are not always the right solution if you do not take the time to consider certain things about buying one of these homes.
The following are ten things you will certainly want to consider before you make a purchase.
Can You Afford the Home?
Naturally, one of the first things you need to think about when you are looking at a vacation home on the Outer Banks is whether you can afford it or not. This is not a liquid type of investment, and there is no guarantee you could sell it right away if you needed the money.
Make sure that the home is something that will fit into your budget without you needing to make too many sacrifices.
Know the Full Costs
You need to keep in mind that the purchase price is only part of what you will be spending. You also need to consider the cost of insurance, property taxes, furnishing the home, and HOA or condo fees depending on the property. Always make sure you know the full and true cost of getting into the vacation property on the Outer Banks before you make the choice.
Know the Rules
Make sure you understand the rules, as well. You might be able to buy a property as a vacation home, but you might not be able to turn around and rent out that home when you are not occupying it. Different locations may have certain rules and regulations regarding this. Make sure you understand them.
Consider How Often You Will Visit
If you are buying a property as a vacation home on the Outer Banks, you must think about just how often you will make it a point to visit the place. Many people will only be able to visit two or perhaps three times per year. What are you going to do with the place the rest of the time? You could let some friends stay there for a vacation, perhaps, but that might not be enough.
You might also want to consider renting the place out.
Who Will Take Care of the Home When You Are Not There
What about all those months of the year that you will not be at the home? If you have any property with the home, you will also have to think about things such as cutting the grass, pool & spa maintenance and keeping up with the landscaping and all the basic needs of the house.
You should certainly have someone in the area that can take care of things like this for you.
Consider Emergencies
In addition to taking care of some of the basic things around the property, you also need to think about the potential for problems. This could include broken plumbing, a hole in the roof, or countless other things that you can't imagine happening.
If you do not have the capacity to deal with these things quickly, it could cause some serious damage to your vacation home.
Protection for the Home
Also, consider the need to keep your home safe from other humans. Thieves like to prowl even the nicest vacation spots, and if they notice a home that does not look occupied, it can seem like a nice and easy target. It is generally a good idea to have some type of alarm system at the home, so you can have security or the police arrive if someone breaks into your place.
The Logistics of Renting the Place Out
Since you are only going to be using the property for a portion of the year, you may find that you want to rent the place out the rest of the year. That could be a great way to help pay down the house. However, you never want to start renting until you have a plan in place. You need to have a method of getting renters to find the property through proper marketing. You also need to consider how payments will be handled, as well as things such as cleaning and turning the home over between guests.
It is generally a good idea to work with a company in the area that can help with all these things.
Consider the Return on the Investment
Whether you decide to rent your vacation property in the Outer Banks or not, you will certainly want to think about the return on your investment. Owning another property could be a part of your investment strategy, so make sure you are getting the right property for your needs and that you will be able to make a profit on it, or at the very least break even.
Remember the Taxes for Rentals
If you use the property as a rental, make sure that you are paying your taxes properly. Rental income is taxable on federal and state returns. However, most of the time, a homeowner will not earn enough after they have calculated their expenses to owe much at all, if anything. Make sure you understand the tax laws in your area. Consider working with a tax professional.
Once you consider all the things that we've covered here, you will have a much better idea of whether you are ready for a vacation home in the Outer Banks. It is a beautiful place, and you can find quite a few great properties available.
If you like the idea and you are confident it is the right choice for you, start looking for a place now.